The Keynote Speaker
TED Talks
Watch as Dr. Shatte delivers a TED talk at NASA.
Years ago, Dr. Shatte and several of his colleagues discovered that psychological resilience is the key to rebounding from life's setbacks. They went on to develop how to measure this resilience and, most importantly, how to train to optimize it. This testing and training has been found to be very valuable to large organizations from Fortune 500 companies to government agencies (NASA, military, etc.).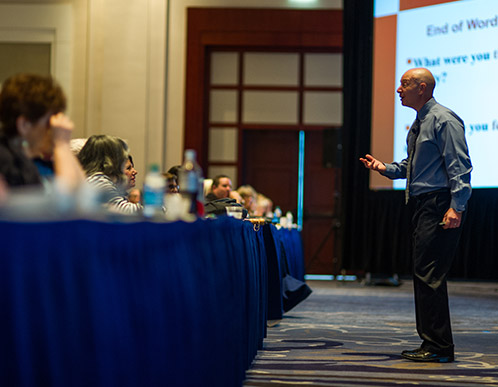 Large organizations and government entities are very interested in this system because of its potential to improve their employees' individual productivity and performance, identify who will do better in certain positions/roles, increase customer satisfaction, and ultimately improve bottom lines.
Today, as the trusted, leading authority in resilience research, training and speaking, Dr. Shatte has become a very popular keynote speaker the world over. His seminars are exciting, intellectually stimulating, enlightening and give everyone in the audience some tools for appropriately reacting to stressful situations at work and at home. Productivity and performance are enhanced as he provides useful information that can be realistically applied by anyone and everyone throughout their personal and professional lives.
The water cooler talk typically erupts for days after one of Dr. Shatte's seminars.